Horse Dental Care at Centennial Equine Sports Medicine
Dental examinations are an essential part of proper health care for any animal, especially horses. Poor dental health can cause serious health and performance issues for horses if left untreated. If you have a horse that requires dental care in Pagosa Springs, Durango, or the greater Colorado area, our professional staff at Centennial Equine Sports Medicine is here to help. We help horses maintain their oral health through routine exams and specialized care for various dental issues.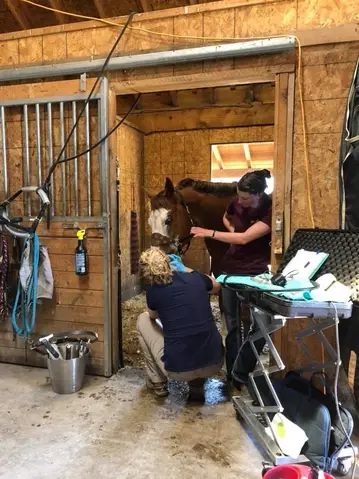 Horse Dental Exams
During a dental exam, we will check the health of the horse's teeth and look for any abnormalities. Horse dental exams often require sedation for a comprehensive look at the animal's mouth. Our team will provide the appropriate amount of sedation for your horse to perform a complete oral exam. We will then flush out the horse's mouth to remove any food or debris stuck in its teeth for a clear view. Our veterinarians use a mirror and speculum to analyze the horse's oral health thoroughly. X-rays may also be needed for further evaluation of the teeth and jaw.
Horse Care for Dental Issues
Our team provides quality veterinary care for a variety of dental and oral health issues. Our veterinarians use state-of-the-art technology to look for signs of dental diseases or any problems in horses as they age. Our radiography equipment can identify conditions like tooth resorption and hypercementosis in horses to build an effective treatment plan.
We can remove sharp buccal and lingual points and reduce both rostral and caudal hooks. Our Pagosa Springs office also has the equipment necessary to treat steps, ramps, and wave mouth. Our professional staff can diagnose and treat periodontal diseases in horses. Our veterinarians can treat diastemata and dental fractures before they lead to gum disease. We often perform tooth removals at our office, making it easier for horses to receive every aspect of dental care all in one place.
Contact Us for Horse Care from Our Veterinarians in Pagosa Springs, CO
If you want your horse to have excellent dental care, our team at Centennial Equine Sports Medicine is here to help. Annual dental exams are used to find and treat dental problems early on before they become serious health risks. Our team is committed to ensuring your horse lives a long and healthy life. Whether suffering from abnormal eating behavior and chewing patterns or displaying bridling and performance issues, our veterinarians can help your horse get the treatment it needs. If you are in Pagosa Springs, Durango, or surrounding areas, contact us today to learn more about how our veterinary services can benefit your horse.