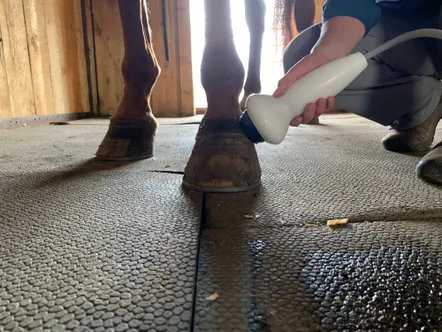 Shock wave is a noninvasive, high-energy pressure wave treatment, which is commonly used in human and veterinary medicine. It helps the body in relieving pain, speeding healing and improving quality of healing.
The VersaTron system that we use has been proven effective for treating such conditions as:
Tendon and ligament injuries (Suspensory/Deep Digital Flexor Tendon)
Bone Fractures (stress fractures/splints)
OA/Joint inflammation and pain
Foot Injuries (Desmitis/Navicular syndrome/Ringbone/Chronic Heel Pain)
Wounds
Back pain/Kissing spines
Shock wave treatments can help your horse to return to work more quickly and has a more than a decade of clinical success behind it. The VersaTron is covered by most all insurance companies (up to 3 treatments) so it's a beneficial option to owners. NOT all shock wave is created equal. To better understand the different types and to ensure you are receiving the gold standard you may want to review the physics behind shock wave "energy healing". Click here for more information.
Call us now at (970) 731-4100 to schedule an appointment.