When you are searching for an equine veterinary practice, you should expect high-quality care as well as great service. At Centennial Equine Sports Medicine, our staff strives to provide the best possible healthcare for your horses, along with exceptional client service.
To ensure the best experience for you and your horse, it is important to choose an equine veterinarian with whom you feel comfortable. That is why our veterinarians take the time to explain all of the treatment options and procedures so that you know what to expect and help you make the best decisions for you and your horses. Our goal is to educate the horse owner, so our veterinarians take as much time as is needed to answer all of your questions.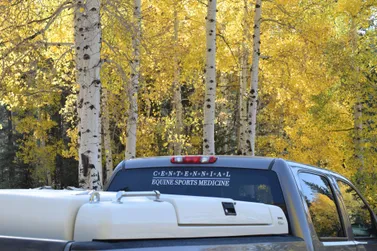 Centennial Equine is an ambulatory practice and provides service at your horses' location of stabling. We are currently in the planning process for an outpatient hospital facility with construction scheduled to begin in Spring of 2022. At this time we can also arrange to meet you and your horses at a number of public equine facilities in La Plata and Archuleta Counties.
You can expect our veterinarians to arrive with a trained and skilled technician with years of horse experience. Having our technicians available to handle your horses allows you to observe and speak with your veterinarian throughout the examination and procedures while also providing the safest environment for everyone involved.
It is important for an equine practice to stay at the forefront of current advancements in equine medicine and diagnostics. At Centennial Equine, we are able to offer a variety of services in a field setting including digital radiography and ultrasound, which are equipped on each of our ambulatory vehicles; 3-meter video endoscopy; therapeutic laser; shockwave therapy; and a number of regenerative therapies such as Pro-Stride, IRAP, PRP, and stem cell therapy.
In some circumstances, we may refer you to a specialist who has advanced training in certain areas, such as equine surgery, oncology, ophthalmology, or more advanced imaging. We will closely coordinate with the specialist throughout this process to ensure that your horses receive the best care.
The staff at Centennial Equine Sports Medicine look forward to providing your horses with the unique lifelong care that they deserve.