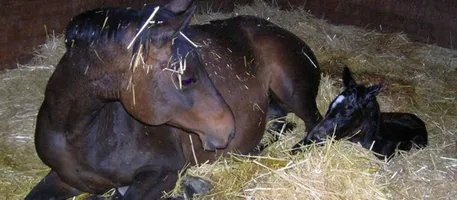 Centennial Equine offers assisted reproductive procedures such as artificial insemination with cooled and frozen semen, pregnancy confirmation via trans-rectal and trans-abdominal ultrasound, manual twin reduction, and embryo transfer.

Breeding a mare for the first time? We offer pre-breeding consultations with our veterinarians that can include: determining the best method of insemination for your mare, whether the mare should have pre-breeding work ups (uterine culture and cytology, or uterine biopsy depending on the mare's history), whether she's a candidate for embryo transfer, and even help with stallion selection if needed.
The average cooled AI cycle will include 3-8 transrectal ultrasound exams depending on your mare's fertility (or likely fertility), whether or not she shows estrous, whether or not she develops post-breeding fluid/metritis, and other factors. We check every semen collection/insemination under a microscope for motility and sperm morphology as an included part of our frozen and cooled insemination protocols.
We recommend pregnancy exams at 14-16 days (to check for and manage twins, if applicable), and a heartbeat exam at 25-29 days to confirm the embryo is progressing normally. Some mares will be scanned again at Day 42 (the earliest day at which you can insure the embryo), Day 60-65 to try to sex the embryo, and any time after that to confirm the mare is still pregnant and the fetus is healthy. Around Day 90 we start performing trans-abdominal ultrasounds for fetal evaluation, as the fetus has dropped beyond the pelvic brim and is no longer visible transrectally. Embryo transfer can be performed on Day 7 or 8 post ovulation. Centennial Equine does not maintain a recipient mare herd, but we can synchronize cycles of your mares if you would like to transfer to a mare you already own or we can ship an embryo to a facility with a recipient mare herd.
Call us now at (970) 731-4100 to schedule an appointment.